Taibach Chiro Clinic Port Talbot
Why treat babies? Surely they can't have anything wrong with them? Do they need treatment? These are just a few of the many questions we hear asked regularly regarding the treatment of babies and small children and, the answer can sometimes be YES they do need treating!
The process of being born can to varying degrees be traumatic in nature with some seeing the baby undergo a great deal of stress both physically and otherwise during delivery. This can have an effect on their little bodies and often this combined with being carried in the womb which is a relatively confined space can often see them present to us with physical manifestations of their journey into the world which can lead to them having resultant ongoing problems.
A chiropractic examination of a baby/child consists of neurological, functional, and orthopaedic tests conducted in a gentle manner to identify any physical areas that may need addressing alongside a detailed set of questions set to mum/dad/carer. Areas identified, when then addressed often lead to really positive, wide ranging benefits! In fact chiropractic is now considered to play an active role in monitoring children's development, motor skills, and well-being (A Window of Opportunity JMPT 2009, vol 32:8; pp 603-605).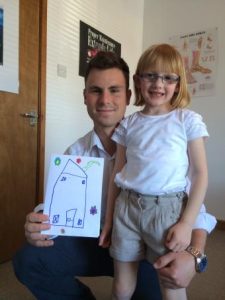 The use of chiropractors with regards to children and babies to help with posture, milestone checks and overall developmental screens is becoming increasingly more popular and quite often the mums that we have treated during pregnancy bring their new born in to the clinic shortly after birth and there is no greater privilege.
If you require any further information regarding the treatment of pregnancy related conditions, the treatment of babies and related conditions or simply want to ask about something unrelated that we may be able to help you with please don't hesitate to contact us. All our contact details are on the contact page.