Initial Consultation
When you arrive at the clinic you will be greeted by a friendly face in reception and asked to complete a new patient form which will be fully explained by the reception staff, this form is simple yet provides us with enough information to ensure we provide you with the best care possible. On completion of this form your consultation with the Chiropractor will begin.
This is your opportunity to tell the Chiropractor everything about your problem. They will also ask you lots of questions to gather as much information as possible and make sure they have a good understanding of your complaint. This is followed by a comprehensive physical examination including chiropractic, functional, orthopaedic and neurological tests. The results of this process will be analysed by the Chiropractor to determine whether chiropractic treatment can help you.
Report of Findings
This is where your Chiropractor will explain the cause of the problem, your treatment plan and prognosis. If further investigations are deemed necessary, such as an MRI for example, you will be told at this stage and referred elsewhere pending the results. You are consulted at every stage and kept fully informed.
Our goal is to regain and increase the functionality and mobility of your body so that you can live a healthy, active life. We will provide you with your own treatment plan that is specific to you and the symptoms that you are experiencing in order to achieve this. Treatment will then begin at this appointment.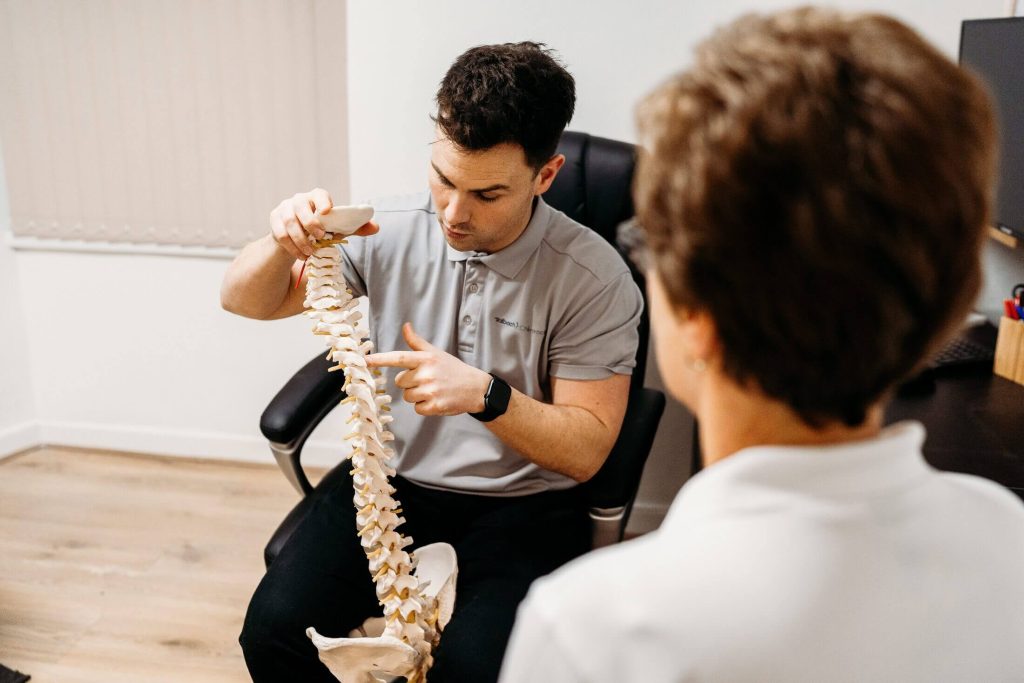 Your Treatment
We understand that treatment can be a little daunting if you've never seen a chiropractor before, but everything will always be explained to you. Treatments often include spinal adjustments, alongside mobilisations and soft tissue techniques, but may also include dry needling, kinesio-taping or IASTM. There are many treatment techniques and methods within chiropractic and at our clinic we utilise many different aspects to ensure we get the right combination to best aid you to a full and speedy recovery.
Although treatments provided by chiropractors are mainly associated with the spine, we actually treat all regions of the body with great success including shoulders, hips and knees amongst many others.
Spinal Adjustments
Spinal adjustments are delivered to areas of the spine or extremity joints identified to be lacking in mobility, which enable the joints to move and function more freely, which in turn decreases pain levels. Often during the adjustments, a "click" or "pop" can be heard but this is just gas bubbles moving within the joints. Adjustments are not typically painful and are very specific to the areas of the spine/joint requiring attention and often provide great relief to the patient.
Soft Tissue Techniques
Alongside adjustments a wide range of soft tissue techniques are used at the clinic which allows us to target all aspects of the problem to provide a complete recovery.